Betina Jahn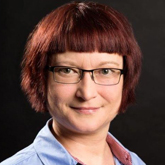 Betina Monika Jahn is an agricultural engineer and farmer by education. After her studies she worked for the Universities of Giessen, Göttingen and Vechta and conducted networking for the feed and food industry.
Betina joined SGS Germany GmbH, an internationally operating testing, verification and certification company in 2002, being responsible for the implementation of certification systems within Agricultural Services and Consumer Testing Services for Food.
Since 2009 she is Head of Innovative Product Management and responsible for new products based on verification and certification within SGS Germany. She is involved in several international developments focused on sustainable biomass and biofuels and food related SGS Testing Marks. Her experience is specialized on Total Quality Management, Supply Chain Certification, Identity Preservation and Certification Standard Development. She managed several projects in South America, South East Asia and China.